Are you using a blog to promote your business? If so, you are on the right track! A blog is a great communication tool and it also serves as a relationship builder.
When you do business online, you cannot greet your customers face to face and get to know them as you would in a traditional retail setting. Blogs offer the next best thing, as they allow your customers to interact with you and see a bit more of your personal side.
Blogging about the new products or services you are offering, as well as any sales you are having is a great way to increase business.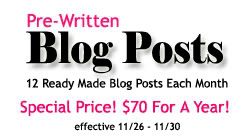 One reason that business owners don't blog regularly is that they have trouble thinking up things to blog about, or they simply don't have the time.
One solution to both problems is to buy pre-written blog posts, such as those found here: http://www.indiebizchicks.com/blog-posts.html.
There will be a special sale on Pre-Written Blog Posts from November 26- 30. When you order, you will receive a subscription to 12 blog posts each month for the next year for only $70. Imagine having much of your blogging done for the entire year.
To order visit: Indie Biz Chicks
---