Women Entrepreneurs Rock Conference is an annual interactive conference that brings female business owners from across North America together for a day of education, empowerment and encouragement. The purpose of the conference is to create a space where women can address the challenges they face while growing their business.  Additionally, women have the opportunity to connect with resources and assistance they need during the two days.
WE Rock is also a premier networking opportunity where many ladies have connected and returned in subsequent years to deepen the relationships initially established at the conference. Popularity and attendance of the conference has grown from just 35 Atlanta based women business owners in 2011 to 100+ in the subsequent years.  Our fifth year anniversary promises to both double in audience size and deepen it's impact on the attendee's business.
Join us this November 13th & 14th for a life changing experience.
For more information, contact Edeline Francois-Dryden at Edeline@WERockNational.org
https://www.facebook.com/WomenEntreprenerusRock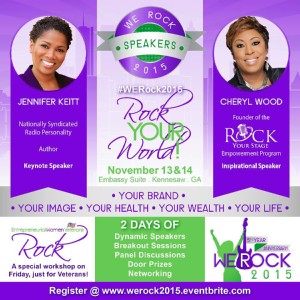 ---