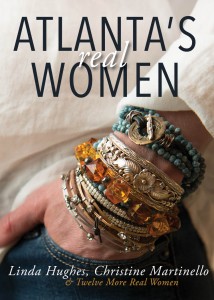 When half a dozen friends and I sat around my kitchen table last summer drinking ice tea and talking about how none of us has life even remotely like those on the TV show The Real Housewives of Atlanta, we had no idea what we were about to get into. We laughed that if cameras followed us it would be downright scary. Our lives are frazzled, feisty, fun, and oh-so-much more. Then someone said, "Hey, we should write a book about real women!"
Maybe it was the gallons of ice tea we were drinking because it was the hottest day of the summer, but I want to believe it genuinely was a good idea. Here we are one year later with a new book written by 14 women, Atlanta's Real Women. Bonnie Ross-Parker, who I have known for years through my participation in The Joy of Connecting, is one of our contributing writers.  Her heart-warming chapter is entitled "On the Road to Healing: A Mother's Journey." My Co-Creator and I are so appreciative of Bonnie's candor and helpfulness as she shares what it took in personal resiliency and faith to face the loss of her son. Each of our 14 writers contributed their  chapter by sharing a personal life story in an effort to help and inspire other women.
As the book's primary writer along with my friend and colleague, Christine Martinello, I did a lot of editing and coordinating.  This gave me the opportunity to consider not only what each author shared in her chapter, but the essence of our collective message.  That message is best viewed through three key questions:
1. What is your story? In this book 14 of us share our stories, yet we all have a story to tell. In his book The Stories We Live By, Dan P. McAdams says that we each become whoever it is who lives in the stories in our heads. What do you say to yourself about you? What do you say to others about yourself? If you don't pay attention to that, you have no way of knowing if it's time to create new images of yourself for yourself. For example, Myra Lewis Williams, second cousin and former child bride of rock-and-roller Jerry Lee Lewis, in her chapter "Don't Shoot the Piano Player – Let Me," tells about a time in her life when she felt meaningless.  She finally realized that if a person is nothing they can then become anything they want to be. If you don't like your life story, just like Myra, you can write a new one. Knowing your life so far has been the result of the stories you tell yourself, the rest of your life will be that of your choosing.
2. Do you let mistakes break you down?  Women are downright amazing. The struggles we can overcome boggle the mind. Do we always make it on the first try?  No. My chapter, Lessons from the Loony Bin, proves that.  One of my mistakes was once marrying a wandering cowboy. I'm living proof that we can survive our own stupidity, if we smarten up. While that can be difficult and even embarrassing, so what?  Eleanor Roosevelt once said, "Learn from the mistakes of others. You can't live long enough to make them all yourself." Go ahead; learn from our shortcomings.  We offer them up to you as a gift.
3. Who are the people who support you?  It is critical that you have support from other women. That's one of the great benefits about Bonnie's Xperience Connections organization (formerly The Joy of Connecting and re-branded in April, 2013). She has created a community that doesn't let women sit around and whine, like the real housewives TV show. (Flash: Picture Bonnie in the middle of that show!  Oh my, the fur would fly!)  Instead, with XC, women share their insights so that everyone can consider positive options. New options take us right back to the first question about stories. New ways of thinking, supported by other women, help you create your story.
The ultimate purpose behind offering our stories in this book is to provide meaningful examples of ways to create your own best life story. You are a real woman, too. We're all on life's journey together. Let's experience the joy of connecting for the rest of our lives for the sake of our lives. This book is really about sisterhood and how we can strengthen and support one another. Let's support real women in business and those kindling the home fires.
Help us celebrate the Atlanta's Real Women by liking us on Facebook: www.facebook.com/realwomenunlimited. The book can be ordered at: www.atlantasrealwomen.com.  Learn more about each contributing writer on Pinterest: http://pinterest.com/atlrealwomen
---