Collaborating for Excellence (CFE) Circles are launching in Kennesaw and Roswell in January!  
What are CFE Circles? An opportunity to dive a little deeper to explore what makes you thrive professionally and personally.  
As professionals, we've adopted the networking approach to build relationships and/or secure referrals to build our businesses, but what about YOU as a professional or a business owner? How do you really want to show up in your work life? We all experience frustration around integrating work into our lives, especially when who we are being and what we are doing is not aligned. There's really no separating the two, it's really about skillful integration. Robin is on a mission to create safe spaces for women to step from behind the mask of expectations and demands to discuss some of the real challenges we face as professionals, regardless of your work structure. 
Robin and Kate would love to have you join them for the CFE Kennesaw Circle, which will meet Wednesdays during the lunch period or the CFE Roswell Circle, which will meet Wednesday evenings. It is a 4-month, 2x per month journey. Long enough to experience "real" results, short enough to make a "real" commitment! 
Each circle begins with a delicious meal together, which deepens our connection before we dive into our essential conversations and personal and professional development discussions. We're adding a few value-added aspects to our Winter/Spring 2015 circles to include some targeted resources and other valuable inner/exercises to foster growth as we strive to be our best professionally and personally and grow our businesses, if applicable, as we welcome all professional women to benefit from this experience.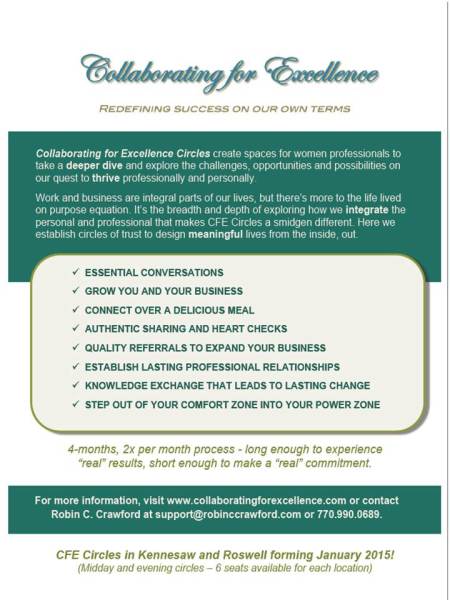 In the spirit of the traditional women's circle, we are so tickled to serve as catalysts, holding this space for women to explore and dive a little deeper.  
Please feel free to share with other professional women – regardless of whether they are business owners or not, as we all have challenges when it comes to successfully integrating our work lives. Ultimately, we want to show up as our best, contribute what makes our hearts smile, and feel satisfied and fulfilled while making a difference, our way. Let's redefine success on our own terms!
 For more details and payment information, visit www.collaboratingforexcellence.com.
 Please feel free to contact Robin via email at support@robinccrawford.com or call 770.990.0689.
 Robin C. Crawford
Professional Mentor, Consultant, Author, Speaker
www.robinccrawford.com
GLWIT Blog!
Grab Life Where It Tickles!
---