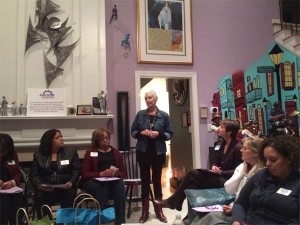 XC Leaders host ever-changing groups of 20 to 25 women who meet on a monthly basis, informally getting to know one another while sharing a meal and then formally introducing their business to the other women in attendance.    Events can be held in the home or in an office setting. 
Successful XC Leaders become known as the "go-to" people for resources within their community. They are committed networkers, enjoy meeting other professional women and are excited to invite them to attend her events to create new connections.
As an XC Leader, you will:
Expand your business
Support other women as they grow their businesses
Build a reputation for being well connected
Cultivate your networking & leadership skills
Supplement your income through retaining a portion of the event fees paid
Leader Requirements:
Have access to a event space (home or office) able to accommodate 25 women
Ability to provide a meal for the group (XC will make suggestions – the meals are not elaborate)
Willingness to network frequently at other events and invite women to your event
Demonstrate leadership ability
Provide a roster of attendees during  each event
Hosting an XC networking group is of particular benefit to women who want an ongoing stream of new clients. XC events might include:
Realtors
Financial Advisors
Accountants and CPAs
Photographers
Chiropractors and Massage Therapists
Attorneys
Coaches
Mortgage Brokers
Event Planners
Social Media Experts
Simply complete our Leadership application form to start the conversation.