SEPTEMBER 16TH, 2015 

Event Purpose: Spotlight women who are leaders of networking organizations and business events. Display companies that provide exceptional services/products that will promote business growth to the 350 + attendees.
Event Mission: To help attendees understand the importance of networking as well as its impact on their business success. To introduce attendees to networking organizations & events that they can plug into which will increase their networking efforts.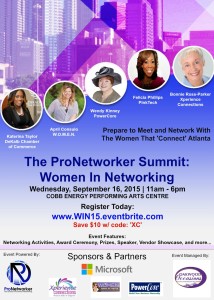 Who Should Attend:
Open to Professional Networkers, Sales Professionals, Entrepreneurs and Business Leaders
Location: Cobb Energy Centre (Ballroom), Atlanta
Estimated Attendees: 350 +
Attendee Fee: $25-$35
Exhibitor/Sponsorship Fee: $250 – $10,000
Event Sponsors: B2B & B2C service and product providers
Event Producers: ProNetworker
---